The Baltimore Sun
Dr. A. J. Volck
DEATH OF DR. A. J. VOLCK
Aged Dentist Was 84 — Devoted Much Time To Art
PAINTER AND SCULPTOR ALSO
Became Known As Connoisseur — His Daughter Taught At Maryland Institute.
Dr. Adelbert John Volck. dentist, painter and sculptor, who was one of Baltimore's best-known artists in the last generation, died yesterday afternoon from the infirmities of age at his residence, 1501 Linden avenue. While he had been in ill health for some time he had been confined to his bed only about three weeks and his death came as an unexpected shock to his family. With him were his two daughters Mrs. F. H. Falkinburg, of Wheeling, W. Va., who has been In Baltimore about two weeks on a visit, and Miss Fannie B. Volck.
A native of Bavaria, Dr. Volck was born at Augsburg 84 years ago. He received his early education at Nuremburg and in 184S came to America. He west to St. Louis, where his brother-in-law, a Lutheran minister, had established a church. A year later the California gold fever broke out and Dr. Volck was sept westward with the tide of "49." Oldest Living Graduate.
His quest for gold, however, was soon abandoned and he came to Baltimore about two years later, he entered the office of Dr. Chapin A. Harris, who, with Dr. Horace M. Hayden, founded the Baltimore College of Dental Surgery. Later Dr. Volck entered the college and was its oldest living graduate. In 1852 he married Miss Letitia Roberta Alleyn, of Baltimore, who died 10 years ago, In the year of their golden wedding. At the outbreak of the Civil War Dr. Volck remained in Baltimore. Although he took no active part in the fighting he was a warm supporter of the Confederacy and was Instrumental at various periods during the war in supplying the Southern, Soldiers with medicines.
His Home A Rendezvous.
Through his aid of the South and his sympathy with its cause, Dr. Volck was well known by persons of prominence throughout Maryland and Virginia. His residence on North Charles street, near Franklin street, was a rendezvous for soldiers on their way to and returning from the front. Even at that early date he had devoted himself assiduously to art, and while the war was in its first stage he engraved a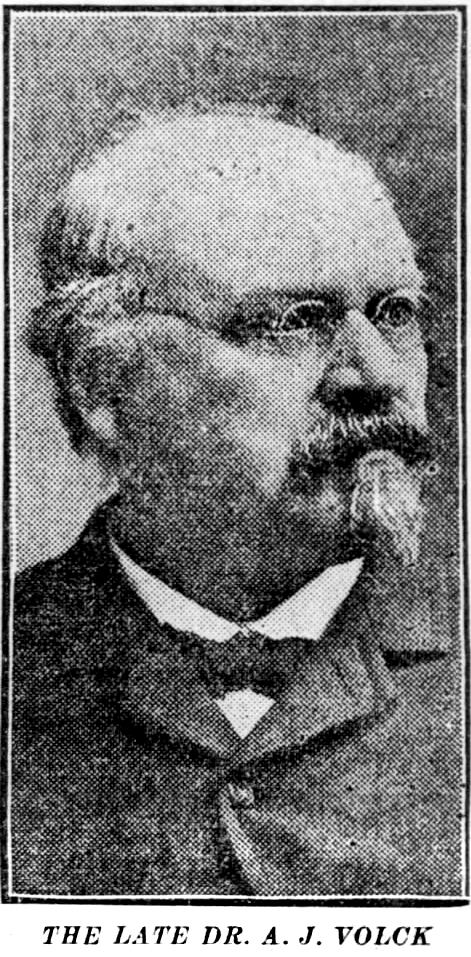 The Late Dr. A. J. Volck
series of plates to illustrate literature in behalf of the. Confederacy. These were sent to England to be printed, but were lost in transit. The most remarkable characteristic of Dr. Volck was his versatility in the field of artistic endeavor. Even In his profession this was revealed, and he soon established a wide reputation for his ability in molding artificial teeth, which he made from a porcelain manufactured according to his own formula. Dr. Volck did not confine his art to carving or engraving, however, but painted extensively in oils. Out West on a trip several years ago he made a series of landscape sketches which he copied and elaborated on canvas in the last years of his life. One of his paintings he worked on up to his final illness, and this stands still unfinished on his easel. Helped Found Charcoal Club.
He was one of the founders of .the Charcoal Club and an original member of the famous old Wednesday Club. For the Charcoal Club some years ago he executed one of his most notable bits of metal work. This was a "growler," made of a solid piece of copper.
A bas-relief portrait of Dr. Basil L. Gildersleeve, in sliver, and a similar portrait of Edward V.Valentine, the Richmond, Va., sculptor, are among other well-known examples of his work. Throughout his house are dainty articles in metals and wood carved by his hand.
These include two large owls, carved in ebony, which occupy each end of his parlor mantelpiece. Among the last things he executed in metal was a shield, covered with bas-relief allegorical figures, which he designed in honor of the women of the Confederacy.
Retired A Decade Ago.
About a decade ago Dr. Volck, who had been injured in a fall some time before, gave up the practice of dentistry, and his energy had since been expended upon his art. He did his work in a room in his house, where may be seen various examples of carvings and paintings. His statuetes and reliefs he made alone, from the modeling to the final casting, all of this being done at home. In response hls work included medallions, an exquisite tankard and historical scenes.
His daughter, Miss Annie C. Volck, who died about two years ago, inherited his artistic temperament. She was one of the instructors at the Maryland Institute. Among Dr. Volck's friends in the past were numbered some of Baltimore's most famous men of the last half century. He was always a favorite, not only for his artistic ability, but for his charming personality. In addition to his two daughters, Dr. Volck is survived by one son, Mr. Howard A. Volck, of Kansas City, Mo.
---