Sweet Lillie, My Darling
Words by Samuel C. Upham
Music by H. P. Danks, author of "Silver Threads Among the Gold."
Sung by George W. Harley, Esq., at the Arch Street Opera House.
Music Published by W. H. Bonner & Co. 1102 Chestnut St. and sold at all the Music Stores.
Entered by Act of Congress, in the year 1875, by S. C. Upham, in the Office
of the Librarian of Congress, at Washington, D.C.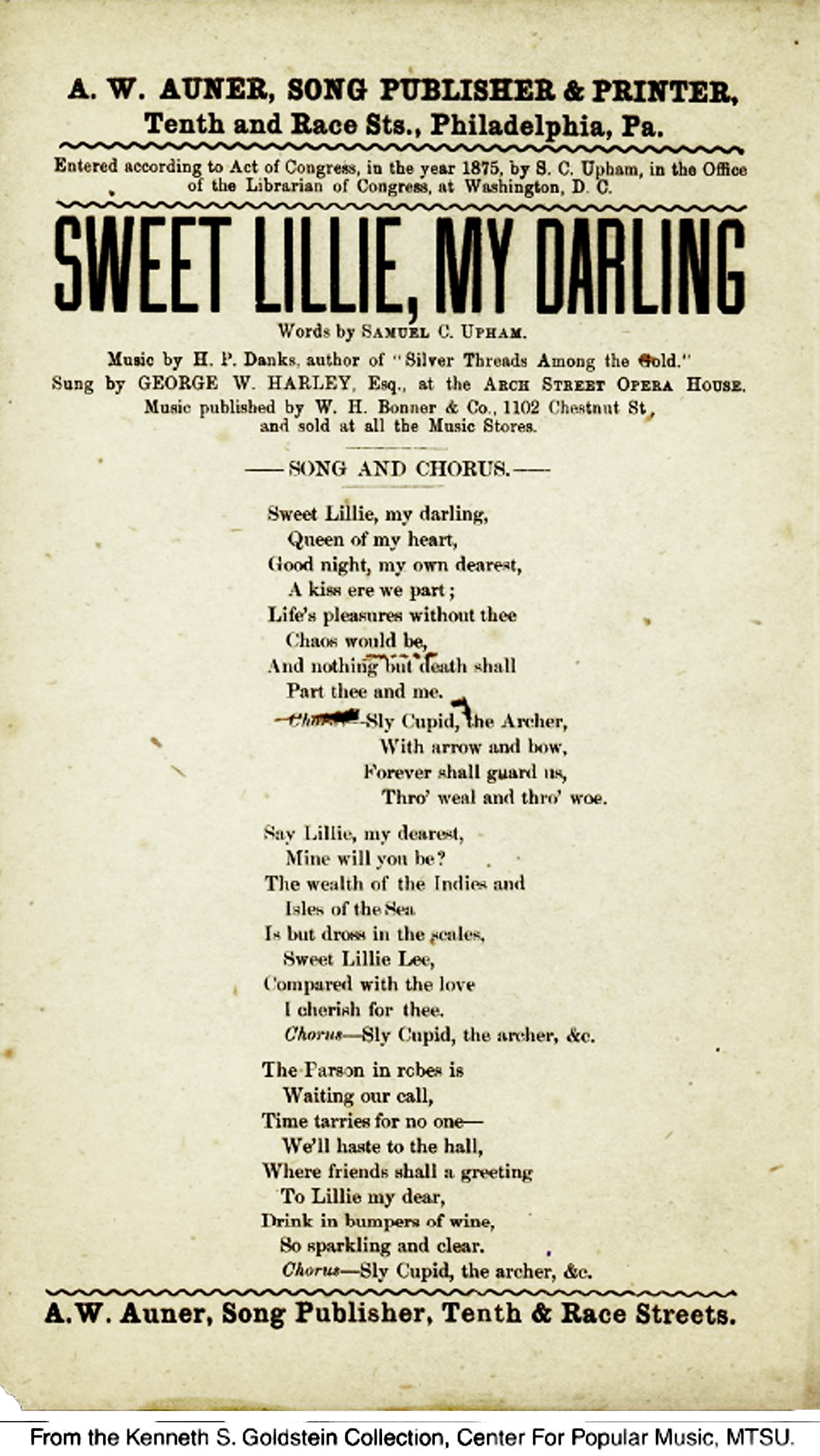 —Song and Chorus
Sweet Lillie, my darling,
 Queen of my heart,
night, my own dearest,
 A kiss ere we part;
Lifes pleasures without thee
 Chaos would be,
And nothing but death shall
 Part thee and me.
Chorus—Sly Cupid,the Archer,
 With arrow and bow,
Forever shall guard us,
 Thro' weal and thro' woe.
Say Lillie, my dearest
 Mine will you be?
The wealth of the Indies and
 Isles of the Sea
Is but dross in the scales,
 Sweet Lillie Lee,
Compared with the love
 I cherish for thee.
Chorus—Sly Cupid, the Archer, &c.
The Parson in robes is
 Waiting our call,
Time tarries for no one—
 we'll haste to the hall,
Where friends Shall a greeting
 To Lillie my dear,
Drink in bumpers of wine,
 So sparkling and clear.
Chorus—Sly Cupid, the archer, &c.
Sweet Lillie, My Darling, Words by Samuel C. Upham; Music by Hart Pease Danks, Broadside published by A. W. Auner, 1875 — Kenneth S. Goldstein Collection Middle Tennesee State University.
The Sheet Music appeared in Godey's Lady's Book, Vol. 92, No. 548, February 1876. (PDF)